What You Should Know About Disaster Recovery
6/8/2022 (Permalink)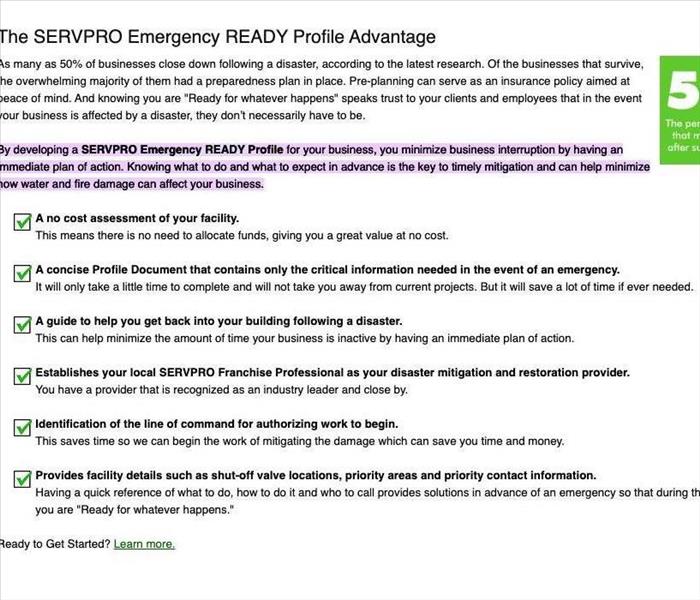 SERVPRO of Shoreline/ Woodinville partners with you to help you create an Emergency Ready Plan (ERP) to put into action in the event of a disaster.
What You Should Be Aware Of When It Comes To Disaster Recovery
Commercial property owners and business principals understand that life can be unpredictable. Managing risk is often done through the purchase of insurance. Having insurance is just one part of the picture. You also need to have a plan in place for unforeseen issues such as a fire, storm, or other natural disasters. SERVPRO of Shoreline/ Woodinville is not just your provider of damage restoration services.
We also partner with you to make sure you have a thorough disaster recovery plan that minimizes interruption to your operations and restores things back to preloss conditions as soon as possible.

Creating a Disaster Recovery Plan
While no two businesses nor two disasters will be the same, a general plan should include the following elements:
Emergency response plan: Established protocol on steps to take as part of a fire or storm response
Business interruption: Strategy for resuming operations as soon as possible
Insurance review: Knowledge of what your policies cover and a procedure for initiating a claim
Emergency stockpile: Maintaining a supply of backup items, emergency kits, and other essentials
Important contact info: Local emergency officials, clients, business partners, suppliers, vendors, insurance agents, etc.
Communications plan: Bringing your customers up to speed on what's happening and how they'll be impacted
File and critical data backup: Duplicates and electronic copies of important business records that can be accessed whenever and wherever in an emergency
Executing Your Plan
SERVPRO of Shoreline/ Woodinville, partners with you to help you create an Emergency Ready Plan (ERP) to put into action in the event of a disaster. We work with you to determine the specific needs of your business, including commercial and large loss restoration, storm damage cleanup, and other services as necessary. We can also evaluate your current readiness to identify gaps before disaster strikes.

While there are many uncertainties and potential for loss in your business, you're not alone. SERVPRO stands ready to help you come up with a disaster recovery plan that's right for you, your operations, and the people connected to your business.